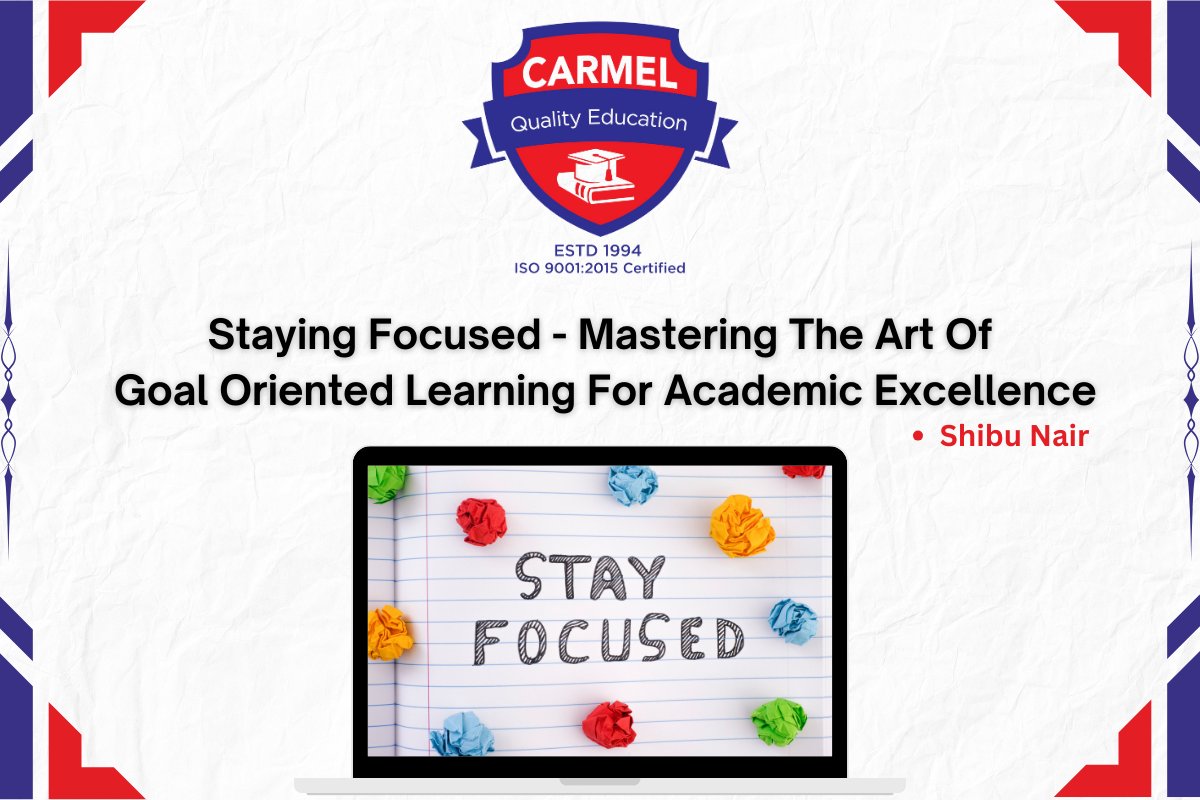 Shibu Nair
When you focus on a particular goal, you must concentrate on it and think more about it, discuss it, work for it, rather than dealing with other things of lesser significance as compared to your primary goal. It's so important to be clear about what your primary goal is, and once you have that understanding, the next thing which is important is to decide what steps you should take to achieve your goal.
When you prepare for your board exams with a goal to achieve maximum marks, it's so important to stay calm, confident, and focused. The first step is to understand the basics of the topics to be learned for the board exams. Next is to attend lectures sincerely with an inquisitive mind, clear doubts if you have any by engaging in active discussions with your teachers, take very short notes on important points while listening to your teachers in the classroom, make elaborate notes at home referring to your textbooks and the classroom notes you have made earlier, and most importantly reinforce what you have studied by learning and relearning the concepts at home. Relating and applying what you have learned to real-life situations is one of the best ways to reinforce and remember the concepts you have learned. Teaching your classmates what you have learned or clearing their doubts can give you immense confidence and satisfaction. Solving previous years' board questions is a must when it comes to preparing for the board exams. Always try to write down answers to maximum questions of all types to ensure timely completion of your board exam papers. Studying orally for a written exam may not help you achieve perfection while presenting your ideas to be evaluated by an examiner who always looks for perfect answers. Write down your answers though it may be boring and time-consuming. Remember, your concept's understanding and knowledge should be deep enough to solve case study and assertion reasoning questions too.
It's not always easy to stay focused on your primary goal as you may have a lot of other interests and hobbies which may not be related to your main goal, which is to achieve academic excellence. Obviously, there will be distractions. Define and monitor your daily study goals, make an achievable daily study schedule, find a quiet and tidy place to study, keep only one or two books you need on the study table, take short breaks in between your studies when needed, take a short walk to reenergize, have some tasty snacks in between, stay motivated about your goal, and don't get anxious, and most importantly avoid negative self-talks. Instead, congratulate yourself each time when you achieve your daily study goals. Keep electronic devices and gadgets away from your reach, especially your smartphone, take a temporary break from social media and discuss your studies with your like-minded classmates, helping each other when needed. Be proud that you are sincerely trying, giving your best.
When you look ahead, you can see the distance between you and your goal, which once seemed impossible, has now become achievable because you have stayed focused and worked hard to achieve your goal. Walk confidently ahead, smile as success embraces you on result day, look around to proudly and happily see the beautiful reflection of your success on the faces of your loved ones.
1. Goal Setting 2. Academic Excellence 3. Board Exams 4. Study Tips 5. Focus and Concentration 6. Time Management 7. Motivation 8. Self-Improvement 9. Success 10. Achieving Goals